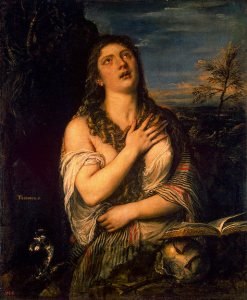 St. Mary Magdeline, by Titian [1565] (Public Domain Image)
Have you ever wondered who the Saints of the Church are? I'm sure you know the names of at least a few Saints; James, John, Peter, Mary Magdalene, Joan of Arc, Valentine, Patrick. If you are curious about the Saints, there are several ways to learn more about them. There are books that list and describe some of them. One such book lists the Saints that are remembered in the Episcopal Church calendar. This book used to be titled
Lesser Feasts and Fasts
, but has been revised and expanded into
Holy Women, Holy Men: Celebrating the Saints
. This book contains a brief biography of the Saint, a collect or prayer, and suggested scripture readings. Another resource about the Saints is the classic
Lives of the Saints
by Alban Butler (this is the 1894 Benziger Brothers edition).
An unusual but fun way to learn about the Saints is to visit the site
Lent Madness
. Lent Madness is inspired by the March Madness basketball brackets, and is pairing off 32 Saints in head-to-head competitions. People vote for the Saint that they wish to proceed to the next round. The next round is the Round of Saintly Sixteen, then the Elate Eight, then the Final Four, and then the final two compete for the Golden Halo.
I've printed out the 2012 Brackets and am looking forward to learning more about these 32 Saints during this Lenten season.